---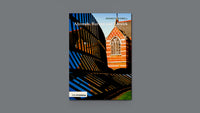 Ahrends, Burton and Koralek (Twentieth Century Architects)
Regular price $32.00
Tax included.
Author: Kenneth Powell
Ahrends, Burton and Koralek (ABK) was established in London in 1961 by three young AA graduates, Peter Ahrends, Richard Burton and Paul Koralek. By the 1970s, ABK was known as one of the most creative and versatile of Britain's younger practices, its workload ranging from college buildings in Oxford and Chichester to housing, public libraries, retail and industrial buildings.

While influenced by High-tech, their buildings were characterised by a concern for strong form and materiality. Major projects of the 1980s included stations for the Docklands Light Railway and the pioneering St Mary's Hospital on the Isle of Wight, as well as buildings at Hooke Park in Dorset designed in collaboration with Frei Otto.

ABK's victory in the prestigious 1982 competition for an extension to the National Gallery in London reflected the firm's standing but the scheme was abandoned following a controversial intervention by the Prince of Wales.

Written by eminent architectural author and critic, Kenneth Powell, and lavishly illustrated with images from the practice's archive and stunning new photography, this book is an essential read for architects, students, architectural historians and anyone who is interested in learning more about a key practice in British post-war architecture.

This book has been commissioned as part of a series of books on Twentieth Century Architects by RIBA Publishing, English Heritage and The Twentieth Century Society.
Dimensions: 230 x 160 mm
Extent: 152 Pages, softback
Publication: Liverpool University Press, April 2012
ISBN: 9781859461662