---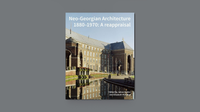 Neo-Georgian Architecture 1880-1970
Regular price $58.00
Tax included.
Author: Adrian Forty
Publisher: Historic England
Publication date: 2016 (First Edition)
Format: Hardback, 256 pages
Condition: As new
This publication investigates how, where, when and why the Neo-Georgian has been represented over the course of the last century. It assesses its impact as a broader cultural phenomenon through a consideration of its buildings, objects, institutions, and actors. It contends that this was not another dying gasp of Revivalism restricted to 1920s Britain but a complex assertion of national image and identity with its origins before and its influence extending beyond this 'lost' decade, well into the post-WWII period. Different ideologies have been attached to the Neo-Georgian at different times and places, particularly notions of home, nation, gender and class. The papers explore the construction, reception and historiography of 'the Georgian' throughout the late nineteenth and twentieth century - and most particularly its relationship to modernism - through discussion of a range of building types, planning (including the new concept of Civic Design) and design generally. The expansion of the public sector in the twentieth century saw Neo-Georgian embraced for a wide variety of buildings and sites. Re-interpretations and adaptations of the Georgian have been a constant theme over the past century and constitute a powerful and enduring strand in Anglophile culture across the globe. The papers consider interpretations of the Neo-Georgian not only in England but in places as diverse as New Zealand and America.