---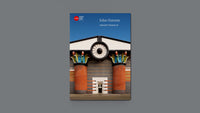 John Outram (Twentieth Century Architects)
Regular price $32.00
Tax included.
Author: Geraint Franklin
This is the first major study of John Outram, whose decorative yet elemental architecture has captured the popular imagination. Outram launched his own architectural practice in 1974, soon securing a reputation for innovative, creative and monumental buildings. Their brilliant colours and exuberant gestures earned him a reputation as a post-modernist, but this book explores their deeper background in architectural history, metaphysics and mythology.

In addition to the major buildings – including The New House at Wadhurst, the Isle of Dogs Pumping Station and the Judge Institute – the book examines unrealised projects, including Bracken House and Ludgate in the City of London. Running through them all is a storytelling approach that draws upon the mythologies and architectures of the ancient world. This book shows how Outram's work reconciles iconography with a creative approach to building technology, posing questions about the recovery of architecture's traditional role of communicating shared values.

Geraint Franklin draws on interviews and archival research to shed new light on this important architect. Richly illustrated with previously unpublished images from the practice archive and stunning new photography, the book will delight architects, students and anyone interested in learning more about this significant figure in late 20th century architecture.
Geraint Franklin is an architectural historian with Historic England.
Dimensions: 230 x 160 mm
Extent: 200 Pages, paperback
Publication: Liverpool University Press, April 2022
ISBN: 9781800856226