---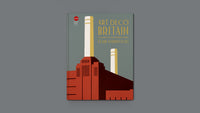 Art Deco Britain: Buildings of the interwar years
Regular price $32.00
Tax included.
Author: Elain Harwood
The definitive guide to Art Deco buildings in Britain.
The perennially popular style of Art Deco influenced architecture and design all over the world in the 1920s and 1930s - from elegant Parisian theatres to glamorous Manhattan skyscrapers. The style was also adopted by British architects, but, until now, there has been little that really explains the what, where and how of Art Deco buildings in Britain. In Art Deco Britain, leading architecture historian and writer Elain Harwood, brings her trademark clarity and enthusiasm to the subject as she explores Britain's Art Deco buildings.
Art Deco Britain, published in association with the Twentieth Century Society, is the definitive guide to the architectural style in Britain. The book begins with an overview of the international Art Deco style, and how this influenced building design in Britain. The buildings covered include Houses and Flats; Churches and Public Buildings; Offices; Hotels and Public Houses; Cinemas, Theatres and Concert Halls; and many more.
The book covers some of the best-loved and some lesser-known buildings around the UK, such as the Midland Hotel in Morecambe, Eltham Palace, Broadcasting House and the Carreras Cigarette Factory in London. Beautifully produced and richly illustrated with architectural photography, this is the definitive guide to a much-loved architecture style.
Dimensions: 246 x 189 mm
Extent: 272 Pages, hardback
Publication: Batsford Books, October 2019
Cover illustration by Paul Catherall
ISBN: 9781849945271