---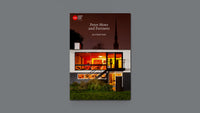 Peter Moro and Partners (Twentieth Century Architects)
Regular price $32.00
Tax included.
Author: Alistair Fair
Peter Moro is the forgotten co-designer of the Royal Festival Hall. A German émigré who had worked with Berthold Lubetkin's famed practice, Tecton, in the 1930s, Moro was drafted in to help realise the Festival Hall in just two short years, in time for the Festival of Britain in 1951. With a team of his former students, he created many of the interiors we see today. For Moro, the Festival Hall was a stepping-stone to a career designing many of Britain's finest post-war theatres, particularly Nottingham Playhouse, Plymouth Theatre Royal, and the renovated Bristol Old Vic. He and his colleagues also designed some exceptional one-off houses, as well as exhibitions, university buildings, schools, and council housing, collaborating with leading talents such as the designer Robin Day.

Based on detailed archival research and with stunning new photography, this is the first book devoted to the work of Peter Moro and his colleagues in architectural practice. Ranging from the 1930s to the 1980s, it explores Moro's belief in a rigorous modern architecture which was both functionally sound and aesthetically rich. It sheds new light on this important body of work, and enriches our understanding of the experience and diversity of modernism in Britain.
Alistair Fair is Reader in Architectural History, University of Edinburgh.
Dimensions: 230 x 160 mm
Extent: 184 Pages, paperback
Publication: Liverpool University Press, September 2021
ISBN: 9781800856516