---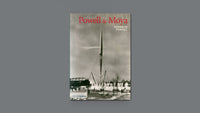 Powell and Moya (Twentieth Century Architects)
Regular price $32.00
Tax included.
Author: Kenneth Powell
For the first time a comprehensive and engaging account of one of Britain's most significant post-war practices, Powell & Moya, has been chronicled in this new book by eminent architectural author and critic Kenneth Powell. Founded in 1946 by Philip Powell and Hidalgo Jacko Moya, the practice rapidly established a reputation for an approach best described as `humane modernism'.
Structured by building type, this book reveals the principles of design particular to Powell & Moya, and tells how they were at the forefront of hospital design, succeeded in bringing modernism to the ancient universities of Oxford and Cambridge, and designed one of London's most successful post-war housing schemes, Churchill Gardens. Ten years after the demise of the practice, they have continued to make the news into the 21st century with the high profile campaign to rebuild their iconic Skylon, originally constructed for the 1951 Festival of Britain.

Lavishly illustrated with images from the Powell & Moya archive and stunning new photography, this book is an essential read for architects, students, architectural historians and modernist enthusiasts interested in learning more about one of the 20th century's most successful British practices. It will also interest and inspire a new generation of architects who want to build in a modern way, in tune with the city and countryside, and in the service of people. It was that vision that drove Powell & Moya's architecture - a vision still relevant today.

This book has been commissioned as part of a series of books on 20th Century Architects by RIBA Publishing, English Heritage and The Twentieth Century Society.
Dimensions: 230 x 160 mm
Extent: 160 Pages, paperback
Publication: Liverpool University Press, April 2009
ISBN: 9781859463031