---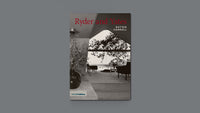 Ryder & Yates (Twentieth Century Architects)
Regular price $32.00
Tax included.
Author: Rutter Carroll
For the first time a comprehensive account of the outstanding work of Ryder and Yates has been chronicled in this new book by Tyneside architect Rutter Carroll. Formed by Gordon Ryder and Peter Yates and heavily influenced by Le Corbusier and Berthold Lubetkin, the practice dominated the development of modern architecture in the North East of England from the early 1950s, where their visually astounding modernism put them in stark contrast to their contemporaries.
Structured by building type, the book attempts to reveal the principles of design particular to the practice of Ryder and Yates. It tells how, from its formation in Newcastle in 1953, it quickly established a reputation for innovative and highly individual buildings situated almost exclusively on Tyneside. Discussing key works in the Ryder and Yates portfolio such as Norgas House and the Engineering Research Station in Killingworth, it reveals the level of influence this practice had over the region.
Lavishly illustrated with images and plans from the Ryder and Yates private archive, this book is an essential read for architects, students, architectural historians and modernist enthusiasts interested in learning more about one of the 20th century's most intriguing British practices.
This book has been commissioned as part of a series of books on 20th Century Architects by RIBA Publishing, English Heritage and the Twentieth Century Society.
Dimensions: 230 x 160 mm
Extent: 160 Pages, paperback
Publication: Liverpool University Press, March 2009
ISBN: 9781859462669