---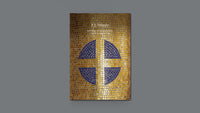 F. X. Velarde (Twentieth Century Architects)
Regular price $32.00
Tax included.
Author: Dominic Wilkinson and Andrew Crompton
Notable undiscovered architects, like undiscovered composers, are implausible, yet Frances Xavier Velarde OBE, 1897-1960, could be just such a person hiding in plain sight. A stylish architect who took a road less travelled then died as he was getting into his stride. There have been no followers. Yet whenever enthusiasts gather to discuss modern church architecture his name will be mentioned. He was no earnest modernist; instead he loved patterns, bold colour and gold. The Catholic churches he built in Liverpool and London are closer to European Expressionism than International Modernism; many of them have a toy like quality and come with a campanile like a rocket. Today his buildings seem fresh and playful, but also poignant as they evoke the 1950s, brightening the drab parts in which they are to be found and serving to make both spiritually and architecturally aware those who visit. Many are threatened and have been published here for the first time. Dominic Wilkinson and Andrew Crompton have combined Velarde's papers with interviews and archive images, including many by his friend and famous photographer Edward Chambré Hardman. Their book, lavishly illustrated with new photography by Historic England, is a must for architects, students and connoisseurs wanting to discover a different route that modernism could have taken.
Dominic Wilkinson is Principal Lecturer in Architecture, Liverpool John Moores University.
Andrew Crompton is Reader in Architecture, University of Liverpool.
Dimensions: 230 x 160 mm
Extent: 184 Pages, paperback
Publication: Liverpool University Press, October 2020
ISBN: 9781789628142