---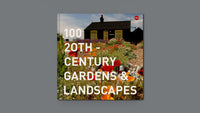 100 20th Century Gardens and Landscapes
Regular price $32.00
Tax included.
A showcase of Britain's most extraordinary gardens and landscapes from the twentieth century to present day.
 100 20th-Century Gardens and Landscapes highlights the evolution of gardens and landscapes over the past century, tracing how these distinctive creations complemented buildings of their period. Entries in this book are grouped in chronological periods, documenting changing styles and techniques in a visual timeline. The examples chosen take the story from the Arts and Crafts garden and the garden city, through the landscapes created for mid-century housing and the new towns, to the low-maintenance gardens of the 1980s and contemporary trends for community and wildlife gardens.
 Designed landscapes were often integral to the conception of twentieth-century developments; the inclusion of a handful of particularly successful landscapes for memorial gardens, offices, industry, transport and parks demonstrate a changing attitude to public green space during the century and its increasing importance as private gardens have become ever smaller. Designers and architects such as Piet Oudolf, Charles Jencks, Frederick Gibberd, Geoffrey Jellicoe, Vita Sackville-West and Gertrude Jekyll are all featured, alongside more detailed essays on the history of gardens, planting styles, the importance of modern landscapes, and the career of Geoffrey Jellicoe.
 The text is written by architectural, landscape and garden historians including Elain Harwood, Barbara Simms and Alan Powers. Beautifully illustrated throughout with photography, illustrations and garden plans, this book is ideal for gardeners and landscape lovers alike.
Dimensions: 230 x 230 mm
Extent: 256 Pages, hardback
Publication: Batsford Books, March 2020
ISBN: 9781849945295