---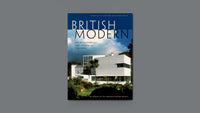 C20 Journal 8 - British Modern
Regular price $13.00
Tax included.
Edited by Elain Harwood, Alan Powers and Susannah Charlton.
The 1930s was the first decade of modernism in Britain, and many of the important buildings have recently been restored and celebrated. The interpretation of the period is still developing, and received ideas about simple oppositions between international modernism and national conservatism in Britain are being challenged in light of research and fresh thinking.

This collection of essays covers relationships between architecture, fine art and design in the period, including world famous figures such as Denys Lasdun, Berthold Lubetkin, Henry Moore and Barbara Hepworth. Subjects of national importance, such as the engineer Owen Williams, and the architect Denis Clarke Hall extend the range of enquiry, while the social aspect of architecture, vital to understanding Modernism, is explored through the work of the housing consultant Elizabeth Denby,
The first ever publication of a substantial text on the Modern Movement in Britain by Sir Niklaus Pevsner, written in 1939, offers surprising insights into Pevsner's broadminded approach at the time through unusual exemplars he selected to illustrate the 'Englishness of English Modernism'. This is essential reading for anyone seeking a deeper understanding of a perennially fascinating decade.
255 x 197mm
128pp B/w illustrations colour cover.
Published 2007
ISBN: 0 9529755 8 0