---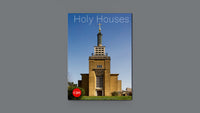 Sale
C20 Journal 15 - Holy Houses
Sale price $26.00 Regular price $32.00
Tax included.
Edited by Elain Harwood and Alan Powers
Issue 15 in the series Twentieth Century Architecture, 'Holy Houses' returns to a theme last covered in 1998 with The Modern Church. The contents are pluralistic in their scope, including articles on individual architects about whom little or nothing has hitherto been published, including Richard Twentyman, E. Bower Norris, Thomas Ford and Robert Potter, and in some cases on individual churches.
The content representing the pre-1945 period is about half the total, including an important piece by Clare Price, based on archival research for a PhD., that corrects the longstanding dismissal of many interwar Anglican churches as old-fashioned and unoriginal. This relates to the difficult conditions of patronage and funding, and the strong control exercised by the C of E panel of consulting architects. This concludes with a focus on N. F. Cachemaille-Day, whose significance has long been recognised but who has not received much attention in print.

The introductory essay by Alan Powers examines the critical legacy of churches from the pre-1945 period in relation to the later emphasis on Modernism and the Liturgical Movement, making the case for a broader and more inclusive approach in order that a wider range of buildings should be considered eligible for designation and protection. A further feature of the collection is the group of essays on Non-Conformist denominations and groups, including the Society of Friends, Salvation Army and Christian Science.