---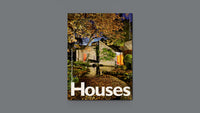 C20 Journal 12 - Houses
Regular price $13.00
Tax included.
Edited by Elain Harwood & Alan Powers
Regional Practice and Local Character
There are many architects and many houses that deserve to be better known. This is a collection of essays on houses of exceptional interest designed by relatively unknown architects between the 1920s and the 1970s. The focus is on practices outside London, where architects could develop clusters of individually commissioned houses of medium size in conditions of creative freedom.

With archive images never previously published and new, specially commissioned photographs, the essays here make a substantial contribution to the Twentieth Century Society's quest to expand knowledge of English architecture since 1914, showing what hidden treasures still remain to be discovered and protected.
Contents
Houses in History: Regional practice and local character Alan Powers
Context, Texture and Restraint: John Carrick Stuart Souter at Hampstead Garden Suburb David Davidson
Picturesque, Modern, Tudor-Style: Edgar Ranger in Thanet Timothy Brittain-Catlin
Modernism in Yorkshire: the work of John Procter Janet Douglas
Designing Twitchells End at Jordans, Buckinghamshire David M Boswell
A Second Skin: Houses and Housing by Gordon and Ursula Bowyer Neil Bingham
Busman's Holiday: Houses in Lancashire by Keith Ingham Julian Holder
A Merseyside Maker: the Houses of Jo Parker Matthew Whitfield
Cedarwood: Women's Journal House of the Year 1960 Neil Swanson
Kenneth Wood: Modern Surrey Houses of the 1950s and 1960s Fiona Fisher
Mervyn Seal Jon Wright
Stout and Litchfield Elain Harwood
Brothers in Arts: Tim and Bob Organ, Artist Constructor Rachel Williams
255 x 198 mm, 224pp Paperback Colour illustrations Published September 2015 ISBN: 978-0-9556687-4-6