---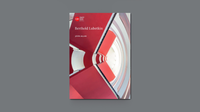 Berthold Lubetkin (Twentieth Century Architects)
Regular price $32.00
Tax included.
Author: John Allan
This book presents a compact and compelling account of the life and work of Berthold Lubetkin (1901-1990), widely regarded as the outstanding architect of his generation to practise in England. It explores the key themes, achievements and setbacks of his career, drawing from the author's twenty-year personal friendship with Lubetkin himself, from discussions with former colleagues, and from his direct experience of working with many of Lubetkin's buildings as a conservation architect.

The study reveals the significance of Lubetkin's Russian origins and European travels, re-assesses his prime work of the 1930s and charts the extensive output of his often-overlooked post-war career. It also considers Lubetkin's legacy in the later work of his key associates, several of whom became significant architects in their own right.

Lubetkin is a legendary figure in architectural circles, while still remaining slightly mysterious and misunderstood. The author shines new light on the man and his ideas, and assesses his unique place in modern architectural history. Illustrations include original black & white images as well as high-quality colour studies of the buildings as they are now. A complete List of Works and published commentaries also provide a valuable source of reference.
John Allan is an Architect, Consultant to Avanti Architects and Chairman of the Isokon Gallery Trust.
Dimensions: 230 x 160 mm
Extent: 220 Pages, paperback
Publication: Liverpool University Press, November 2023
ISBN: 9781837645053