---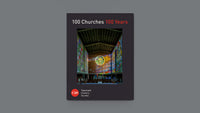 Sale
100 Churches, 100 Years
Sale price $20.00 Regular price $32.00
Tax included.
Edited by Susannah Charlton, Elain Harwood & Clare Price
This book illustrates and describes 100 churches and chapels built in the UK since 1914, charting the development of buildings for worship. In this period concrete and steel gave a new freedom to construction, while new ideas about how congregations could participate in serves changed assumptions about traditional layouts, bringing celebrants and people closer together. The century saw dynamic churches in dramatic shapes of all sizes thanks to ambitious engineering, and brilliant colour from new forms of stained glass, murals and sculptures.

Architects whose work is included here range from Basil Spence and Edward Maufe, designers of major cathedrals, to the radical Gillespie, Kidd & Chia whose brutalist seminary lies abandoned near Dumbarton. The book provides biographies of major designers; articles on glass, fittings, and on the synagogues, mosques and temples that play an intrinsic and important part in worship in Britain today.

Now with over 100 years under its remit, C20 Society campaigns for the best of all types and styles of building, from neo-Georgian to post-modern. Churches and their fittings are under ever-increasing threat and this book shows why they are important to everyone who loves beauty and culture today.
Dimensions: 246 x 189 mm
Extent: 208 Pages, hardback
Publication: Batsford Books, March 2019
ISBN: 9781849945141